Little Cloud Spiruline GT2 Paraglider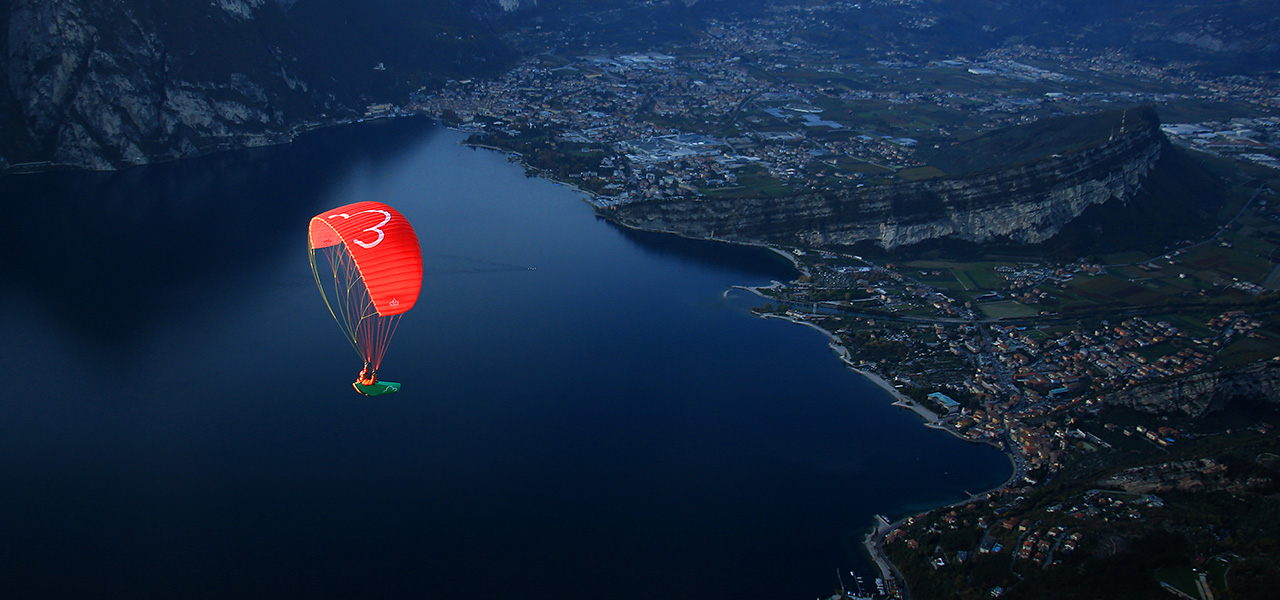 100% fun oriented, the GT is for pilots looking for simplicity. The new version steps up its versatility, making the Spiruline GT2 the ideal glider for flying, travelling without hassle and nice potential to achieve some beautiful fly tours. Performance has been enhanced by a slight increase of the aspect ratio (4.7 vs 4.5) combined with an optimization of the cells width. No compromises were made regarding safety!. Pitch less, low aspect ratio, high-pressure profile, long brake travel, skin tension balance, all prototypes have been pushed to their limit to make sure we get the safest glider possible.
When it comes to feeling the wing, the brakes on the Spiruline GT2 have become more consistent, more linear, and brake travel before stall point reach an incredible 70cm, with a preventing high pressure along the last 10cm. This factor is extremely important for Little Cloud: prevent from over reaction, helps low speed flying, without altering the handling precision.
Little Cloud Gracchio Paraglider
A new name for a new glider. Gracchio is the Italian name for the Alpine Chough, a bird we see everywhere in the mountains and who likes to fly for fun!This glider follows the LittleCloud identity with a moderate aspect ratio, a very pitch stable behavior, and   is extremely fun to fly!
A lot of different ways have been tried during this development.
In the end, simplicity wins with only 57 cells, a very simple inside structure, and a  moderate aspect ratio of 5.6.
The Glider uses a brand new airfoil with smaller air intake. The particularity of this airfoil is its efficiency and extreme comfort during long flights.
The Gracchio is produced with semi-light materials, which are more durable but keep an overall weight very low thanks to its design simplicity.
The Gracchio is aimed for autonomous pilots looking for a glider that will not limit their desire of flying XC,  soaring, or hike and fly.
Be aware that this kind of wing, because of its performances, is not designed to compensate for the lack of skill or experience of the pilots, even though its potential allows it to fly longer and further!
Little Cloud Bidule Paraglider
Bidule, from LittleCloud. In response to pilot demands worldwide, the design objective of this wing was to create a wing that is easy to use and suited for both leisure and professional use. Easy inflation without pulls in strong wind, excellent lift on takeoff, no pitch, same performance range as other tandems available on the market. The Bidule will provide a lot of fun to its users as well as maximum versatility.
The Bidule is equipped with trims, offering essential acceleration.
It's biggest asset is its versatility:
-for soaring in strong conditions (good speed potential and less pull during inflation)
-in thermic conditions (easy to maneuver, remains precise and offers performance)
-for local or XC flights, (offering a large weight range
-for use with skis (simple preparation, easy to recenter the wing)
-accessibility (lightweight, low aspect ratio, virtually no pitch)
-mountain flights (lightweight, reduced bulk)
Little Cloud Spiruline EZ Mini Wing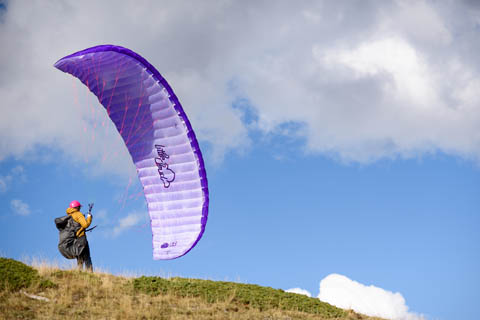 Spiruline EZ. The famous Spiruline has been fully redesigned into the Spiruline EZ range! Like usual, LC is not only refining details in its product range, but fully redeveloping it, including all thlatestst knowledge and technology!
Its program stays the same, 100% pleasure orientated glider, easy, playful, intuitive and direct… Easy to set up, light, and durable. It's a real "gecko glider"! Only your imagination will limit its versatility!
The new glider is a true 3 liners, helping to save 15% of line consumption and a bit of weight by the attachment points count reduction.
Thanks to the shaping improvement, it was possible to reduce the cell count without affecting the dimension stability of the canopy! The glider feels more compact and the "span wobbling" so typical for the Spiruline has been reduce to almost nothing! This helps the pilot to get a better glide feeling, and make him feel more confident into the glider, and on top of that improving the glide ratio of a half point! The glider remains pitch stable like all the LC gliders.
Little Cloud TurboSoaring Mini Wing
One part of flying is soaring!
"TurboSoaring" is LittleCloud's version of soaring, but on steroids!
Coastal flying sites are everywhere around the world, which can sometimes offer even easier flying possibilities than mountain sites.
The LittleCloud family has been exploring TurboSoaring for a while now, and the boundaries have been pushed pretty far by the crew in Holland.
Through the years LC has found that a special kind of performance was the key to this activity. The development has focused on combining high performing gliders with an easy to use design that has no over-reacting behavior in order to stay safe.
The actual range is composed of:
– The MegaGoose and theSuperGoose: based on the MiniGoose V2, with some little extra tricks. They are relatively easy gliders for soaring.
Their ranges overlaps paragliders' window. A good first step into TurboSoaring.
But not only! They provide a lot of fun too! Direct handling, but smooth and not overreacting, pitch stable, dynamic, very efficient glide, all you need for some HappyFlying!
– The MiniGoose V2:
This 13m2 glider is based on the MK3 range, with a more aggressive arch and a slightly lower aspect ratio to keep it under control.

This glider is dedicated to stronger wind. Sharp handling, great
glide.
– The BabyGoose is a smaller version of the MiniGoose, dedicated to very experimented pilots.
Little Cloud GrassHopper Seat
GrassHopper, the new pod harness from LittleCloud. LC has created a buckleless system to get easily strapped in, front mount container is integrated on the waist belt, and the reserve risers are directly attached to it. This system allows a pilot to get strapped in with only 2 steps, reserve activation included, and almost zero risks that the pilot could take-off unstrapped. The reserve container is closed by a 6 pin system, with a short-range of activation. This system reduces the risk of unintended reserve release.
With a weight of 3.3kg for the L size, no compromise has been made regarding durability. The seat is very easy to use thanks to its seating position.
It offers very good support along the chest, hip, and legs, as well as a great stability Anti Balance System adjustable). This gives perfect control on takeoff and landing (chest straps, shoulder straps, pod feet rest position and ABS sensitivity).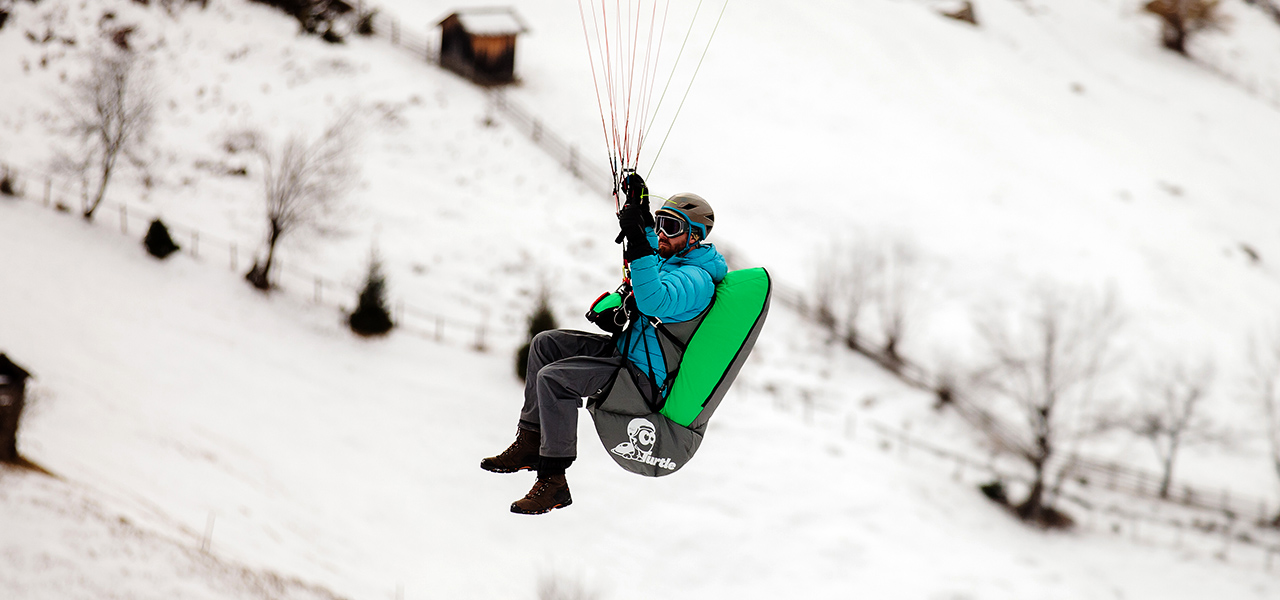 Turtle, the new reversible airbag harness from LittleCloud. LC used the innovative buckleless system to get strapped in. A front mount container is integrated on the waist belt, the reserve risers are directly attached on to it. This system allows you to get strapped in within 2 steps only, reserve activation included and reduces the risk of an unstrapped take off to almost zero. The reserve container is closed by a 6 pins system, with a shorter time range of activation. This system reduces the risk of un-intended attempted reserve release
With a weight of 2.4kg, all included, no sacrifices have been made done on durability and comfort. Its shape offers a very neutral roll control behavior, the Turtle responds very precisely to the pilot's input, not more not less. It is fully adjustable in flight.
Airbag protection is certified and goes from bottom till upper back.
The bag is rather tall, compact, with enough space to fit 25/26m2 of fabric (55l+), which makes it perfect for walks and hikes.
The side bag is equipped with several small pockets to fit your phone, car keys, bottle, etc.
One Single size fits all.
Little Cloud Pelican Kite
The Pelican is a closed cells (which can be disabled)  foil kite dedicated to kiters with a bit of experience.  Great upwind capacity, very responsive handling, great wind range with very low wind usability on a foil board, The Pelican is a kite you can use for a very large play range on the water and on the snow.
3 sizes (7/10/13) are enough to cover most of the kiting conditions and keep your quiver simple and efficient!
Foils are behaving differently than tube kites. The soft structure, the little more complex bridle requires different techniques to deal with. These techniques are very easy to learn and will not make your kiting experience more complicated.
ln order to leave you the choice of what you need, the Pelican is delivered in a stuff bag without bar and without the backpack.
The Pelican is supplied with a special device, the blind connectors,  that allows swapping bar from kites without opening the kites or the bag or unwinding the lines. With this blind connector, you can use one bar for several kites.
Of course, bars and backpacks can be ordered separately.